About Soxster
Soxster.com is a blog dedicated to BDSM. It has been created to educate and entertain.  It is the first stage of developing a website that will include photos and videos.
Soxster.com was created to show people that BDSM doesn't have to come with attitude. It can be fun, playful, adventurous, respectful and life affirming.
Soxster.com features Australian guys and their friends from around the world.
You might find it easier to read the posts in the order in which they were posted.
All photos on soxster.com are of guys aged over 18.
All feedback and submissions welcomed.  🙂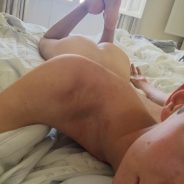 I'm really enjoying Reddit at the moment – so many guys willing to show off. One boy who caught my eye was Zach (Bottomtwinkboi) from Scotland who has been posting some great pics. If you like twinks with a naughty gleam in their eye, then you should definitely check out Zach – and if you live or are visiting Scotland, please fuck him senseless and send me the photos and videos! 😛  I asked Zach about a memorable sexual experience – and this is what he swears is a true account. I turned up to the location the guy I had been talking to on Grindr had given me to meet, it was around 10 at night and it was pitch black and chilly in Edinburgh but he said to dress cute so there I was in skinny jeans and t-shirt under a jacket. He also said to wear a buttplug and chastity cage which had been the focus of much of our sexting. He turned up sometime later with his Ford and as I got in he gave me a kiss and looked at me with excitement in his eyes. He was 27 at the time and I was barely 18. He was just shorter than me at 6'0, had blonde boyish hair and an amazing Scottish accent and cock I'd sucked on many occasions. He told me to prepare myself because the only other bottom had pulled out and ghosted him so I was the only fuck that was coming. I was horrified and nervous and horny at the same time, I was wondering if I should ask to leave or try to slip away when we arrived but we were already over half way there and my horniness and the feeling of having a buttplug inside me and my tiny cock aching in my cage propelled me forwards. I asked him how many were there and he said 4 excluding him.. I was shit scared. We arrived at his flat building and I could hear the music from just outside his door as we walked up, I almost hid behind him as we arrived and was seriously debating running away. Immediately I was drawn to the sight of the four tops in his flat. 2 studs around my Grindr hookups age and with hair muscly bodies, a twink probably no older than me but with a bigger build and lastly a much older guy (must've been mid thirties) with a Dad bod and hairy chest. The Dad-guy was sitting on the sofa completely naked slowly playing with his dick as the twink and one of the jocks were kissing and jerking each other off. The other jock was watching fully clothed. My Grindr hookup introduced me and immediately all attention was on me, I felt like a piece of meat and I absolutely loved it. After my Grindr hookup striped me naked in front of the 4 watching horny guys they all said variations of "fuck"and "sexy little slut" as they saw my chastity and gaping hole from my buttplug.. it all escalated from there as the Dad-guy and my Grindr hookup picked me up and carried me to the bedroom with the jocks and the twink trailing behind. I was placed onto the bed onto...
read more