Cam4 Adventures with Sissyboy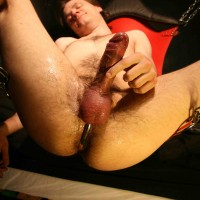 I really do love working over Sissyboy.  I'm going to take credit for his cock sucking ability because over dozens of sessions I've been able to teach him to blow me exactly the way I like. His mouth is just magic.  🙂
In this session, broadcast live on Cam4.com, he blew me, I fisted him, inserted massive toys into him, flogged him, spanked him and generally had an awesome time.
We got to several hundred viewers – which he really enjoyed. He's definitely an exhibitionist.
As well as broadcasting the session, we filmed the whole thing with two HD cameras – so the videos will need to be posted at some point as well.