Joel has started his preparation for being gang fucked at Fickstutenmarkt. He's determined!  🙂  In his own words….
As I foreshadowed in my first entry, Day One of Operation Open Sesame involved a four-way where I would play the lone bottom to three imposingly hung tops.

Two of them are a couple, aged in their late 20s to early 30s. They're lovely guys who I've met twice before, once a handful of years ago when I was a complete novice to trawling for cock online, and once just a week before this meet, after which they were inspired to have me over with one of their mates. Kindly, they often refer to our past two sessions as some of the best fun they've had, so of course I am happy to continue lending a helping hole.

One of these fellas has a dick wider than a four-lane freeway. It's one of those slabs of meat that you almost need Julia Roberts' mouth to suck. Uncut, the head takes some coaxing to completely emerge from its sheath. It's a beauty.

It's not that the other guy is toothpick-thin, either. On any other day, you would laud his penis for being a perfectly above-average one. But in comparison to his partner's fuckstick, it doesn't rate any special mention.

The third member of the top gang turned out to have a lengthy 8.5 inches packed away. Average girth, but sometimes it feels like that sort of length is enough to reach my oesophagus.
The fucking started pretty much straight away. I began with the couple fooling around on their bed while awaiting the arrival of Top No. 3. By the time he rocked up (the front door had been left open for him) I was already on all fours, having a cock rammed into both ends. The only thing he really missed was the dildo I'd brought from home disappearing rapidly inside me thanks to a sizeable helping of Wet Stuff Gold!

Like the sensible, tidy gays we are, we worked from smallest to biggest, using the less-hung partner to loosen me up. His dick felt felt great in me. I think it'd be the ideal cock for a longterm lover to have, never worrying if and when I could take it, but still pushing deep enough into me to satisfy.

Then came Top no. 2. the lengthy guest, who turned out to be a kooky kind of fucker. He had a slightly crazed look in his face (I could see it now that he'd thrown me on my back), slamming into me at an unprecedented rate of knots, and I could feel the head of his cock hitting a part of my insides that rarely receives human contact. In one fell swoop, he held me by my forearms and brought me up to sit on top of him. It was done very adeptly, me not feeling like I exerted any energy to get there; it was swift and easy. Here he bounced me up and down, using the springy mattress to slide me up his shaft before letting me fall back down on it, impaling myself 8 and a half inches onto a  swollen sword of flesh.

I am embarrassed to admit that he went so far into my ass that, when he finally pulled out after 10 or so manic minutes, a little bit of unpleasant waste emerged. I thought I had douched well, albeit only having a plastic syringe to use. And I guess it had been over an hour since i'd finished up the DIY enema. Still, this is so often enough to stop a top in his tracks.
I showered immediately, and fortunately, proceedings didn't look like dampening. There was still the mac-daddy of tops to satisfy. I was frustrated that showering meant losing all that residual lubrication that had been accumulating, and so when the wide motherfucker was pushed into my arse, there was definitely some initial pain. But it wasn't bad, and I wasn't giving in.

After kindly taking it slow for perhaps 5 or 6 strokes, the last of my conquerers fucked the living bejesuses out of me. I'm lucky these boys appreciate a vocal bottom, because I just about ripped a vocal chord as he was doing his best to rip my backside. I reckon I managed almost ten minutes with him stretching me before i needed to cum. The idea of jacking out a load was unbearable with an ass that full of another man.

It's so funny how differently your cumshot turns out after assplay. If I'm alone jerking off at home, I will usually shoot over my shoulder (the wall behind my bed is a crusty homage to shooters like me) but something happens to my prostate after a pounding that I jizz more like a fountain onto my stomach and pubes.
In fact we all came on ourselves this time. I'm not a huge one for cum that's not my own, so having the visitor spoon the first top's cum into my mouth was my least favourite part of the day. Still, I consented and chowed down like a good bottom, something that you know I am desperate to become.

Ahead of Germany, I know I need a way of working on my stamina. I want to take more cocks for longer. I also need to be certain I am 100 percent squeaky clean up there to avoid any more accidents, no matter how little.

Hopefully then I will be an appealing enough hole that warrants a double-digit number of cocks at Leipzig Fickstutenmarkt.
And here's a pic and some video of what those stallions will be fucking – and the cock they'll be holding onto for extra leverage if he's fucked on his back….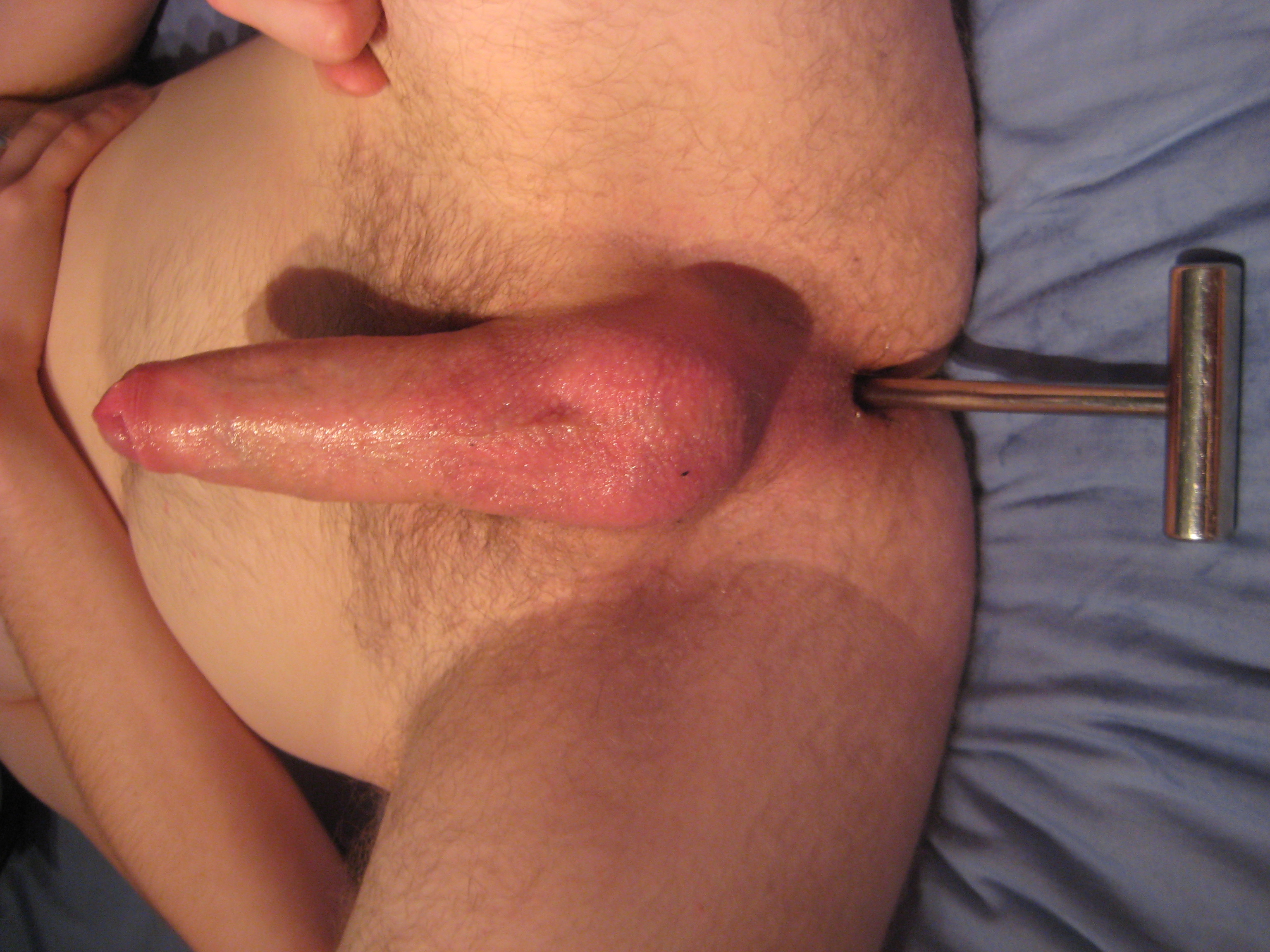 Click here for a video of Joel having a probe removed from his ass