After the last party I asked Pup Quartz to do a write up of his experience. What I love most about this write up is how he basically transitions from human to horny pup as his inhibitions fall away…..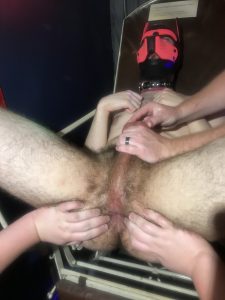 My first suggestion to attend a Soxster party came from the host themselves. As a growing member of the kink community within Melbourne, I had been slowly learning and becoming involved with groups such as VicPAH and Melbourne Rubber. As a result of this, I came across Soxster and many folk that had previously attended a Soxster party, who recommended I attend an event and see how I feel.
Initially, I was anxious, as I'd never properly attended a sex party like this before. I had previously been to events such as Perversion and Alliance, but they were similar to dance parties with sexual presentations rather than a sex party. As a result, I was rather anxious about attending, despite knowing one or two people that would be attending personally and having met Soxster at Perversion.
Upon arriving at the apartment, the air was relaxed. Folk were lounging on couches and beds, 13 people overall of various shapes, sizes and age brackets from early 20s to mid 40s, casually conversing about musicals and television series they enjoyed. I found myself able to relax and join in the conversation. Shortly after I arrived, the pizza arrived too, and the general vibe became one of a large group of friends meeting to simply enjoy each other's company. It helped a lot in allowing me to get comfortable before the 'sex' aspect of the party began.
We stripped down to our underwear, in some cases folk getting completely naked, and people began splitting off. I was initially anxious to get involved, but through the assistance of those present, I was able to fall into headspace and observe the activity going on. I put my neoprene jock, leather collar and my pink Mr S Leather pup hood on, and began to explore.
The apartment's playroom was well stocked with toys and equipment to assist in almost any kink experience you wished to participate in: dildos, fleshjacks, a couch, a sling, pornography playing on the television and, most impressively, an authentic gynaecological chair. I watched as a sub was pushed to their limit using a ribbed metal plug and assisted them through it with amyl. I remember becoming far more engaged in that moment, watching the sub moan and take in more and more until they couldn't any longer. At that moment, I wanted to play. Like a good puppy would.
I took some time in the gynaecological chair myself and found myself with another pup eating my ass and a sadist dom subjecting me to a milking session while slapping and stretching my balls. I'd never experienced any form of testicular torture before, so the sensation was very new and got Quartz very excited. He couldn't help but moan and beg for more. After a short break from the proceedings, Quartz began to wander around the rooms, talking more with the other participants and occasionally allowing folk to play with his body, whether that be sucking his bone, slapping and putting a finger inside his ass, and having people very occasionally tug on his collar. At one point, Quartz was asked to pound the ass of another sir using his bone. Strapped up in the sling, he laid back and let Quartz enter his hole. Quartz was usually more inclined to bottoming, but he very much enjoyed being able to fuck someone, even if he did so only for a brief moment.
Quartz witnessed a variety of different activities over the course of the evening, including, but not limited to, the spanking of a sub using a kink die to determine how many times they would be paddled (96 times, in the end), another use of the kink die to determine how many punches a fist bottom would take in the gynaecological chair, and plenty of anal punding, whether through use of toys or the standard top/bottom dynamic. Quartz found himself becoming more and more comfortable the more he saw the sexual acts occurring around him, and with it, enjoyed himself falling more and more into the puppy headspace until he found himself wanting to crawl on all fours for most of the evening.
Eventually, Quartz found himself on the floor of the playroom, bred by a sir as said sir ate the ass of his locked sub. Quartz knew this was his place; to be bred by a sir and used as a fucktoy. If he had his choice and just a bit more confidence, he would've allowed many more folk to breed him. But, for the first time he had attended, Quartz enjoyed it very much.
Overall, the environment was relaxed and focused primarily on ensuring that one is able to take things at their own pace. I was never pressured into any situation I didn't feel comfortable with, and likewise felt engaged with the activities I wished to participate in. If I could give any advice, don't be afraid to turn up early. The comfort comes from being able to get to know the folk present and becoming close with them before the fun is engaged. Also, please express your needs and wants. I can be sure Quartz would've had an even more fantastic time if he had the opportunity to express how much more he wanted to experience and take. At the same time, it helps to know your limits or be willing to express if you ever feel uncomfortable. Those present are always understanding of the human body and will understand if you hit your limit.
Overall, Quartz would love to attend again at some point in the future and give even more detail into his experiences down the line, while trying some new things, new toys, and new experiences with the folk that attend Soxster parties. Specifically, he wants to try a variety of depth-testing dildos as well as maybe even giving it his best to take an entire hand from a sir in the gynaecological chair or on all fours.
Love, hugs, and belly rubs,
Quartz~