A review of a party from 2021 🙂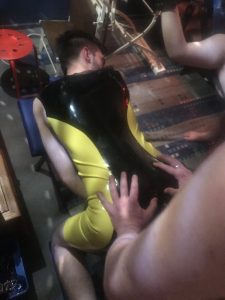 The pizza party was a little more social than I thought- in a good way! It wasn't just sex and craziness the entire time, which helped the space feel safe and comfortable. A little downtime, a little eating, with a buildup towards the sex itself. Even during the sex it was still pretty chilled. People will check in with you, make sure you're okay with what's going on and that it's not going against any boundaries.
When I did have penetrative sex, the people I did it with were happy for me to go and grab a condom. In short: people are way more decent here than on online services like Grindr or Scruff. Everyone's comfortable, polite, and some are willing to bite if that's your thing.  Speaking of which, the kinky play is really something, and it's great to see that kinks are welcomed. Although I personally didn't partake in too much kink wise, the sling had a really nice feeling, both as a top fucking someone in it, and as a bottom laying on it.
Everyone else was clearly having fun too, some will have vanilla sex, but there was sometimes someone being paddled, electrocuted, or even tied up. But of course, the pizza was good too when you just wanted a break and sit down… and maybe just watch the action, rather than engage in it for a while.
If you're anything like me, you're probably thinking that a Pizza Party is going to be a bit too much for you. I promise you, that feeling passes. At the beginning I felt shy, nervous- it felt like a space I was simultaneously invading, as most people seemed to know each other already, but also vulnerable. Which makes sense, it's a new space where you are anticipating an intense experience.
But like trying to get in a pool, once you get in there, it becomes fine over time, and you find yourself settled after a bit. I found myself opening up after a bit, and I immediately began to relax a bit. Everyone is happy to just have a chat, as much as they are to play, especially with a table laden with pizza just sitting there.
Would I go back? Absolutely, I had a fun time, it's a nice way of meeting new people (no, seriously), and it's fascinating to be exposed to kinks I've had very little exposure/knowledge to.