Another write up from the January party, this time from https://twitter.com/leo_melbs
It's always awesome to hear about the different perspectives of each attendee – two people at the same party can have very different experiences. Pics of him inside https://twitter.com/lstalio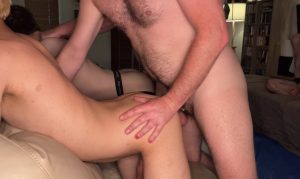 *******
Generally I'm a shy guy, so before I go to any "social" event I'm feeling anxious, wondering if anyone will want to talk to me or play.
But after the parties, my experience has been the opposite, where there has been a great mix of guys that were very chatty and really comfortable to get naked and fuck.
I arrived around 6.30, generally the same time as everyone else, headed upstairs to drop off my bag and strip down to my jockstrap. Some guys were already naked, some were still fully dressed, so I decided I would go halfway.
I looked into the bedroom and could see two guys fucking on the bed, I love to watch guys fuck and this was hot to see already. They must have been horny all day!
I headed down to the main room, and I knew a couple of the guys already, making me think I could have checked the guest list. But no dramas, as we had played around before, and this was a perfect situation to play around more.
Then the fun started to begin. By now everyone was getting naked, chatting about what they liked doing, who was a top, who wanted to get fucked, and dicks were getting hard.
The shy part of me, always stops me from making the first move in most situations, so I really liked it that certain "Dingo" took the initiative, jumped into the sling and asked who is going fuck him first.
I love being the first dick to stretch out a guy's hole. The whole process of lubing up and getting his hole ready to take my dick is so hot. Once I've lubed up his hole, now I am putting lube on my dick getting ready to slide in, gradually pushing deeper and deeper. This guy made some really happy moans as I stretched him out, making a great start to the night. For the next 20 minutes, I was taking turns on fucking this guy with another top.
Taking a break I went to check on the other rooms and watch what was going on, some guys casually chatting and jerking off, some were sucking dick, some were fucking in the slings or on the bed.
The vibe was really easy going, there was a real mix of ages and body types, which meant I got to chat and play with some guys that I usually would have talked to in other situations. Then we got into a circle of hard dicks for a really hot young guy to get in the middle and take as much cock down his throat as he could.
One guy I got chatting to had never been to anything like orgy or sauna before, and after talking for a while, unexpectedly he asked me if I would fuck him. Again… I was the first guy to fuck him that night, so I was more than happy to stretch out his hole and fuck him.
The rest of the night played out the same way, chatting with some the guys, fucking for while, then back chatting and grabbing cold pizza!When it was time to head home, I left with some new friends and a big smile on my face.