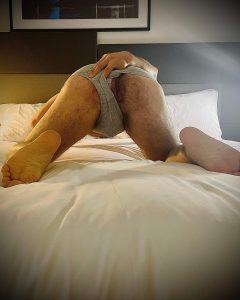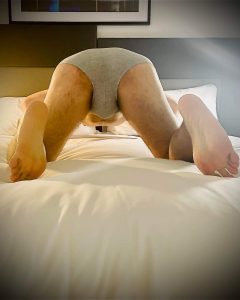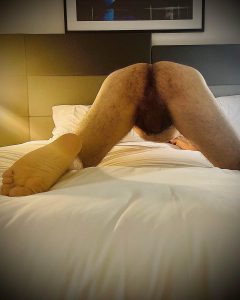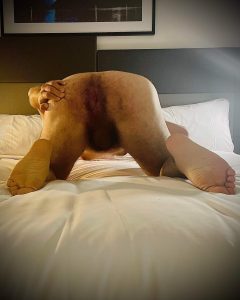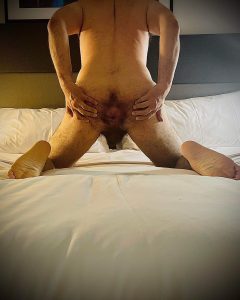 A former playmate of mine had some adventures lately…
**********
So after a good few months sans taking cock, I thought a two-day midweek interstate business trip could be a good opportunity to see whether my holes were still up to the task.
A few days before I arrived at my destination, I punched the location of the hotel I was staying at into Grindr to see if I could prearrange something with a local. It got me a couple of nibbles but no one solid that I clicked with. Slightly disappointed, I left it and thought nothing else of my cocky ambitions….
….until I actually checked into the hotel.
It was noon. I'd just gotten up to my room after an early checkin and I had two hours before my first work commitment. Plonking down on the bed, I pulled my phone out and decided to take a quick look to see if I could find something to plug my holes.
Almost as soon as I opened the app a message popped up. It was from a guy in his 50s. He'd sent a torso pic. Decent bod. A solid bulge in his shorts. It said he was 7 metres away.
A few minutes later I had travelled the two floors up and was knocking on the door to his room. About a minute after that I was naked, lying on my back with my head over the edge of his bed. I was told to open wide. He had to check out of the hotel in half an hour and so he didn't want to waste any time.
By the time I returned to my room just on 1pm, his uncut cock had fucked both my mouth and arse. He'd been a man on a mission with very little time to waste. So I'd been told to just lie there and to take what he gave me. And that was a relatively short but thick uncut cock.
Having him pound my mouth for a few minutes was relatively straightforward, and unlike me, he was freshly showered – something I appreciated. When he flipped me on to my stomach and said he wanted to take my arse I told him that I was worried about handling his girth. At that point he threw me a lube packet and said he'd give me a minute to get myself ready. I lubed up my hole quickly, sticking in one finger and then two. The look he was giving me as I was fingering myself filled me with both worry and anticipation. Needless to say both were warranted. He took me from behind on all fours. There was no easing in. I was literally fully impaled from the second stroke and then it was a steady and firm fuck to the end.
As we both got dressed after his release he apologised for not having time to get me off, and said that the last half hour had been a nice surprise after his pretty shitty trip.
Back in my room I hit the shower. My hole was a little sore, but surprisingly didn't look like it had just taken a (thick) cock for the first time in a while. I dried myself off, suited up and went off for my first work meeting for the afternoon.
I got back to my hotel room at 7pm. My interstate colleagues had taken me for a quick drink so now I was a little drunk, alone back in my hotel room. I pulled out my phone to see if there was anyone around for a bit of fun. It was a whole lot busier online than it had been that afternoon, and I chatted and traded pics with a few guys.
One in particular – let's call him Mac – was a bit flirty. He was a local that lived a couple of kms away and was his early 40s. Apparently interstate guys staying in cbd hotels were his thing and he was keen to do his bit to welcome this one to his town. Especially if it was a compliant sub he was dealing with.
We chatted for about 40mins and I may have played a bit of hard to get. Mainly because I was hedging my bets with one other guy I was chatting with. The other guy was in his 30s. Built body and a good looking cock. But a bit aloof and not overly responsive on chat. Anyway, Mr 30s was working late and wouldn't be able to meet up until after 11pm, if at all. So with that I bit the bullet with Mac, got his address and headed out to walk the 20 mins to his place.
I arrived at Mac's small terrace house a little after 9pm. He opened the door in a pair of trackies and a tshirt. He invited me in and it looked like he had just finished eating dinner. Looking at me standing there in a pair of dark jeans and a shirt he apologised for being under dressed compared to me. I quipped that if it made him feel better I could fix that by getting out of my gear. He smiled, handed me a beer, and told me he was in no rush.
He went to sit down in an armchair and motioned for me to sit down on the couch next to it. We talked about random stuff for a while. It was comfortable and nice. As I took the final swig of beer from my bottle he stopped talking and looked at me.
"Come here," he said. And I noticed he'd spread his legs wide apart and was pointing at the floor in front of the armchair he was sitting on. I knew what was being asked of me.
As I knelt at his feet and reached into his trackies I could tell he was already hard. Hard and moist. And I think he'd been moist for quite a while.
Unlike my hotel room session that afternoon, getting Mac off was very much about me putting in the effort. He was very directive though, telling me exactly how he wanted me to service him. By the time I left his terrace house a bit after 11.30pm, I had spent a large amount of time on my knees sucking his cock and licking his balls. I'd then climbed on top of his lap and rode his cock at the varying paces he directed. As I did this, Mac fondled me….playing with my dick and telling me which angles I should sit at in order to make my arse feel tighter or looser around his cock. He literally didn't move out of the armchair the entire visit but still managed to direct me to the point of getting him off… as well as jerking me off to the point that I came all over his chest. Far from it feeling like a boring, static session the couple of hours of sex had been fun – and I fully felt like my need to please had been filled.
As I walked the 20 mins back to my hotel, I opened up the app on my phone to send a quick thank you message to Mac. As I did I could see that Mr 30s was also online and had sent me a reply a few minutes earlier. Turned out he worked in hospo and had just gotten off work. He was still up for meeting if I was. It would need to be at my hotel room though given his place was ages away.
Stuff it I thought. I agreed to meet him. Half an hour later he was standing in my hotel room with me. His body looked like it had in his profile picture – yes, he was hot. But that really didn't translate into the best of fucks. So yes, he fucked me. Yes, he came. And yes, I was chuffed when he told me how tight my arse felt (I didn't tell him that his was the third cock that had been up there in a day). But as he left I was more turned on by how slutty the decision to see him was rather than how hot the fuck he gave me felt.
At that point it was well past midnight. I jumped into the shower again, cleaned myself up and then hauled myself into bed (for once to sleep). Just before i did, I grabbed the phone and opened Grindr for one last time. Turned out Mac had sent me his own thank you message and I typed a response back to him. Almost instantly he sent his own reply
"Get your arse back over here now. I'm waiting."
I was a bit taken aback. Then a minute later he sent a fresh dick pic through. It looked familiar. I felt my own cock hardening and then all of a sudden there were a flurry of messages between us going back and forth.
In the end he managed coax me back to his place. It took his agreement to book me an Uber to get me back there, and an assurance that another fuck session with him could not involve all the strenuous exertion coming from me this time (there was no way I had enough energy to bounce ride him again).
Long story short, I arrived back at Mac's place a bit after 2am. He literally pounded me to a pulp – having warned me that given he'd cum twice earlier that evening it would take a while for him to cum again. By the time I left his place at 8am the following morning (with only 2 hours sleep) I could swear that the way I was walking would betray to everyone the fact that I had taken three different cocks in four fuck sessions over the last day.
Needless to say, I managed to get through the rest of my work trip….and Mac's insistence that he take some souvenir happy snaps of me before I left that morning will mean I remember this slutty episode for a little while.